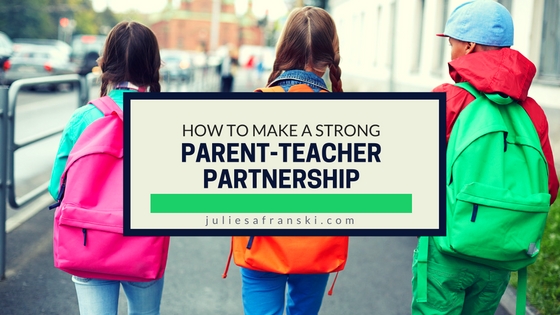 Is it really back to school again?!?  The  kids are savoring their last days of summer. They may (or may not) be looking forward for school to start so they can see those friends they don't get-together with over the summer.  Waiting to find out who will be their teacher can create both angst for student and parent especially if your child has special needs.  My experience working as a school social worker for numerous years, I have witnessed the best and the worst of relationships develop among parents and teachers. We all know that having a positive parent teacher partnership can only benefit your student.  How do you make sure that the connection you have with your child's teacher is the best that it can be this school year?  Here are some tips for a strong start when your child heads back to school in the fall.
Talk to the teacher about any specific concerns you have for your child.
Once back to school, most teachers send out some sort of communication requesting information to get to know your family.  Do not hold back any vital information because you want to see if the teacher "notices" an academic/ behavior issue etc.  If you wait to tell them after they come to you and you say "oh yeah, that was also a problem last year", they may feel duped that they were not informed or that you are not interested in dealing with the problem together.
Also, it doesn't hurt to check-in with the teacher if something changed as your child heads back to school this year (e.g. mom is now working part-time and now they go to the morning before-care program).  Your child's reaction to this change may be something unusual for them and it would be good for the teacher to be aware of it. The more information they know, the better the teacher can support your child.
If your child has an IEP or Section 504 plan, and you have a specific concern such as implementation about a specific service or accommodation, email the special education case manager and cc: the teacher so she is aware.  Case managers are the ones who coordinate the service and/or accommodation and are usually the ones who support the teacher so they are the best to contact especially if the teacher is new to your child.
Be aware of what is happening in the classroom.
A lot of teachers send out email newsletters or have a website. Make a point to check it or read it.  I know we are all inundated with email and information.  But if the teacher takes the time to include it in their communication, it's probably important.  And nothing is worse for a kid when it is pajama day and they are the only kid in their class who didn't come dressed for it.  Or they missed an important deadline for a school-related activity that they now cannot participate in. Not to mention, the projects that are coming due.
And for those parents who have kids with academic or organizational issues, being aware of deadlines can help your child plan for a large assignment instead of scrambling to finish at the last minute (and yes, eventually the goal is that they will learn to monitor themselves).  Your interest in school will show your student that you think what they are doing is important and you support their teacher.
Don't be afraid to ask questions.
Sometimes in the classroom, a teacher makes a rule, creates an expectation or has a procedure you just don't understand and you may think "what's the point of that?".  Go ahead and ask your child's teacher (in a respectful manner) for clarification.  They may have their reasons for doing it and be happy to explain their rationale.  Or maybe they do not know how their expectation comes across to your student or the parents and they need to provide more information to the whole class.  I've come across many parents who complain about what is happening in the classroom but never bothered to have a conversation with the teacher.  They may head straight to the principal, talk about it with their friends or other parents while never going straight to the source.  Many misunderstandings can be prevented and lots of time saved by communicating directly with the teacher.  Of course, if you still don't feel like the issue is being resolved after working with the teacher, feel free to get other professionals involved ( counselor, social worker, principal, district administrator).
Your child is a different person at school.  Really. 
During the summer, your child might be the most extroverted kid you know.  But as soon as they head back to school, they may not say a word during class.  Or they may be the class clown.  Or have difficulty with managing their frustration appropriately.   Try to be receptive when receiving feedback from the teacher about what they notice.  Expectations at school and home are often different particularly in regards to the types of tasks required and the amount of activities in which they have to participate with other kids.  Kids may struggle with what needs to be completed and/or how they behave in the classroom.  If you have strategies that work for you at home with your kid, share them the teacher as they will probably be happy to hear about it.  A consistent message from home and school is so powerful for kids.  Or if you think you or your student needs more support, ask what other professionals in the building may be able to provide some feedback or strategies to help your child ( e.g. reading specialist, school social worker, school psychologist etc.).
Help out.
Your child's teacher has an incredibly difficult job and most teachers I have worked with want to do the best job for your student.  But the amount they need to accomplish grows every year while their time seems to shrink with requirements (NCLB, anyone?).  As your kids head back to school, think about ways you may be able to support your teacher whether it be volunteering in the classroom to run a center, facilitate a class event or donate goods/furniture to the classroom (ask first to see if they want it though–but most of the time they will say yes!).  If you can't get into the class during the day, maybe there is a task you can do at night at home that could really help a teacher out (e.g. cutting something out for a special activity).  They will be very grateful there is one less thing on their very full plate.
Julie Safranski, LCSW is a Chicago psychotherapist and school social worker with 16 years of experience working in private and public schools.   She enjoys helping kids and their families navigate school settings when faced with social, emotional or academic challenges.  She can be contacted at js@juliesafranski.com.