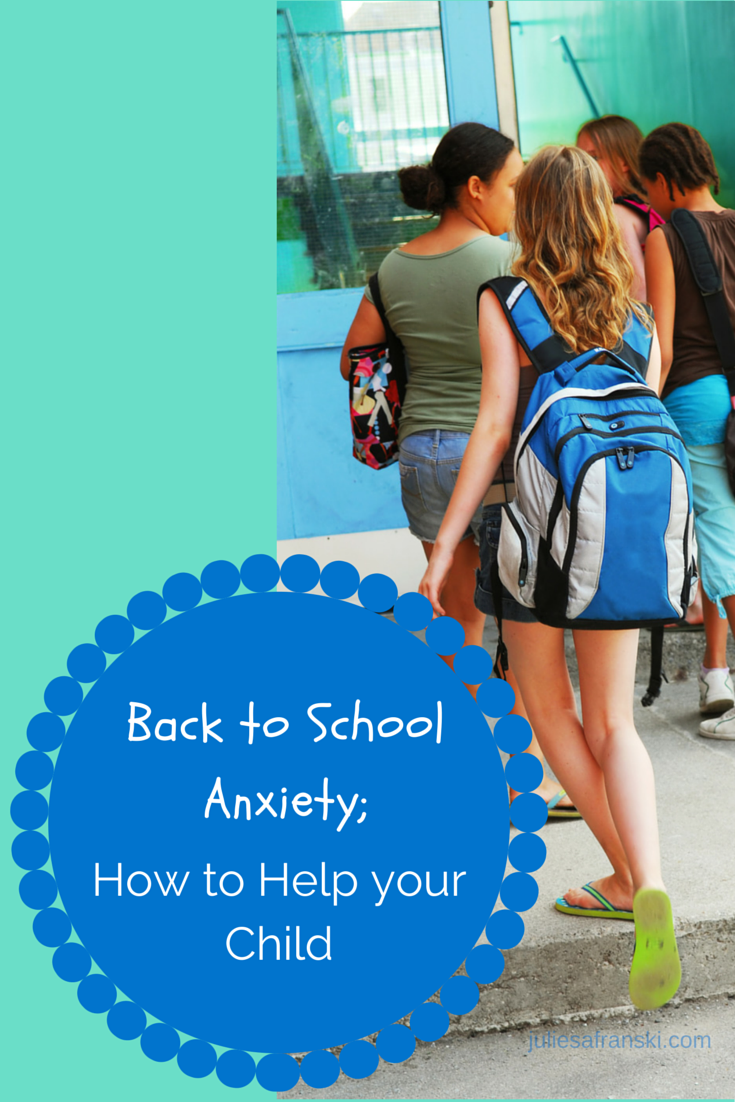 It's time for back to school!  For some kids, this brings excitement of getting a new backpack, figuring out their first day of school outfit and looking forward to connecting with their friends they haven't seen all summer.  For others, it brings a sense of dread and worry.   How do you know if your child or teenager may be experiencing school anxiety? Anxiety can look different in everyone but some possible clues are; disruption in their sleep patterns (e.g. trouble staying asleep or can't fall asleep) changes in mood (e.g. more moody or irritable than usual), overly focused about school (e.g. memorizing their schedule over and over) or directly verbalizing it (e.g. "I wish I never had to go to school"). But not all kids show signs of anxiety until after the "honeymoon period" of the first days of school. Other signs such as having a hard time getting them up in the morning, faking an illness or avoiding discussing the topic of school.   If you suspect that your child may be experiencing some school anxiety, here are some tips to on how to help.
How to Talk to your Child about their Concerns
Start a Conversation and Listen
Acknowledging that you have observed a behavior that concerns you is a great opener. ("I noticed that you keep changing the subject when we talk about school. Is there anything you want to talk about?") If they start talking, sometimes just being a listener at first is best. As parents, we often want to fix the problem for them so we can make them feel better.  But kids sometimes just want to vent and know someone is hearing what they have to say.
Restate What They Have Shared
Often our first reaction is to tell our kids that  "You'll be fine" but that can feel dismissive because you are not acknowledging their current emotions. To make your child feel heard, rephrasing what they have shared will be helpful " It seems that being able to memorize your new combination has really been on your mind ".
Ask Questions
Ask some clarifying questions to see if you can get to the root of their school anxiety. "Maybe you are feeling nervous because you will have a new teacher?" or " Do any of your friends have lunch the same period you have?"
Normalize Feelings
Share that often people have mixed emotions about going back to school. Let them know it is ok to feel excited, nervous, curious etc. all at the same time.   And sharing that your feelings are ok no matter what they are is another way to validate what they are going through.
Come up with Solutions Together
Help your child or teen problem-solve and come up with some options that might make them feel better about their school anxiety.  Below are some suggestions to get you started.
Visit the school grounds  Depending on the grade level, this could mean going to the school playground to become acquainted (or reacquainted) and to know what door they will be entering in the building. For middle/high school students, you may be able to ask the principal/counselor to see if you can get a tour of the building ahead of school starting particularly if they do not offer something prior such as a middle school or freshman orientation.
Set a schedule  In a previous post, I wrote about tips for getting back in the routine for kids with ADHD but a lot of the strategies could apply to any student.  Planning for the structure of the school day or week can help alleviate some fears of the unknown (or forgotten).
Read books about school anxiety (elementary)  The Kissing Hand is a sweet story for entering school for the first time for Pre-K/K and I Don't Want to Go to School is a fun read for PreK/K. Wemberley Worried is a great book for PreK-2 discussing anxiety overall as well as Wilma Jean the Worry Machine, for grades 2-5 which offers practical strategies for anxiety as well as an entertaining story.  You can check out my Pinterest Back to School page for more recs.
Focus on favorite things   For younger kids especially new to school or going full-day for the first time, having a photo in their backpack of  the family could be helpful to refer to when needed.  For older kids,  having them decorate their binder(s) and /or locker with pictures of things they like such as celebrities,  bands etc. might create more excitement for the first days of school.
Hang out with friends from school   For some kids, they may not end up seeing their school friends all summer due to scheduling, vacations, camps etc.  But making an extra effort such as hosting a get-together with the kids they had in class last year might help with the transition.
Email school personnel  For parents of elementary school students, often you do not know who your child's teacher is until very close to the start of school.  But when you are made aware, even just letting your child's teacher know your child is having some anxiety about going back to school will be very helpful for their teacher.   For middle school or high school students, an email to the school counselor or school social worker making them aware of your kid's school anxiety may be also be worthwhile. They may offer to touch-base within the first few days if needed.
Julie Safranski, LCSW is a Chicago psychotherapist.  She enjoys working with kids to find ways to deal with their anxiety and feel better. She can be reached at js@juliesafranski.com.