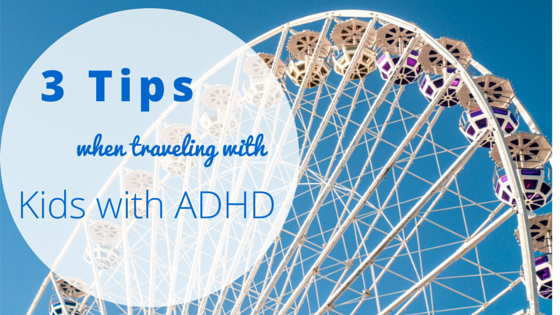 Relaxation. Fun.  Adventure. Being able to take a vacation during the summer is what we look forward to all year.  But if you have a child with ADHD, going to a new destination can be very stressful for parents and children alike.  How do you make sure that your vacation doesn't turn into more trouble than it's worth?  Here are some suggestions to try to minimize stress and have everyone be able to enjoy themselves.
Planning
Yes, lots and lots of pre-planning. Overall, a vacation provides the novelty that many people with ADHD seek.  But also making sure that the type of trip you are thinking of taking involves activities that you know your child will enjoy is also important.  Kids with ADHD will do better if they are doing something that holds their interest.  When bored (e.g.too many museum exhibits with long lines), is when you see kids making their poor behavior choices due to their impulsivity.  Even if your vacation is not entirely child-centric (which is ok!), having activities across the day that will hold your child's attention will be helpful in the long run.  But in the meanwhile, bring things along that might keep them entertained during waiting periods such as silly putty for the younger ones or IPod/IPhone w/headphones for the older ones.  Also, if you are planning to go to a family resort or large amusement park, calling ahead to see if they have special assistance for those who have special needs such as a way to bypass the long lines.   Another idea is to have healthy snacks available for your kids with ADHD because we know that too much sugar and processed food is not good for any kid (there is debate whether it increases the symptoms  or if red dye #40 has an impact )   Either bringing snacks from home or order online the favorite foods to be delivered at your hotel makes it convenient for your kids to eat (somewhat) healthy while you are away from home.
Create some sort of routine away from home
We know it's hard to have a routine when you are on vacation.  But providing some sort of structure while at a relative's house, hotel or rented home while away will help provide some stability for those kids with ADHD.  One way is to give the kids the day's schedule when they wake up so they know what to expect even if it is different than a typical day.  It also gives the kids expectations about what is happening for the day and can keep the kids from asking (ok- maybe just reducing the amount of times they ask), "what are we doing now?"  Or if you are staying for awhile, even a mini-white board written with days of the week with the main activities of the day could help provide a visual reference.  Also, if your kid is a picky eater, having those familiar foods on hand or going to a place you know that your child can get those foods will help them feel at ease.  At bedtime, if part of their routine they usually read  a couple of stories, bring a few along or download ones you can read on the Kindle if needed.
Know When Your Child Needs to Take a Break
Splash parks! Water slides! Amusements rides! Lots of sugary desserts! All of these things are some of the best parts of summer for kids but it also could mean a recipe for meltdowns and poor behavior choices.   A good amount of kids with ADHD also have sensory issues .  So this also means that they could get easily overstimulated by the activities they are doing even if they are having so much fun.  As a parent, you will need to have alternate activities that may help your child calm down.  These activities could be as simple as daily rest time back in the hotel room which could be reading, napping, watching a movie, playing on the IPad, listening to music with earphones or quietly playing.  Or has your child been cooped up in the car traveling or been waiting in too many lines?  Those kids who struggle with hyperactivity may need a chance to get their energy out.  You may want to plan a visit to a local playground to climb and swing which provides good sensory input.  Or a greenspace to run, kick a ball or play frisbee.  For younger kids, you will probably have to look for the signs of an impending meltdown and cue them for a break.  And for older kids, telling them they have an option to bow out of an activity during the day to do one of these strategies may prevent an argument due to non-compliance later.
Julie Safranski, LCSW is a Chicago psychotherapist.  She loves to help kids with ADHD utilize their strengths and give them tools to feel in-control of their behavior.  You can reach her at js@juliesafranski.com